C. Dodgson, Tertullian Vol. 1. Apologetic and Practical Treatises. (1842) Series Title Page

A
LIBRARY OF FATHERS
OF THE
HOLY CATHOLIC CHURCH,
ANTERIOR TO THE DIVISION OF THE EAST AND WEST.
TRANSLATED BY MEMBERS OF THE ENGLISH CHURCH.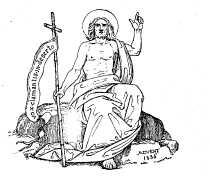 YET SHALL NOT THY TEACHERS BE REMOVED INTO A CORNER ANY MORE, BUT
THINK EYES SHALL SEE THY TEACHERS. Isaiah XXX. 20.
--------
OXFORD,
JOHN HENRY PARKER;
J. G. F. AND J. RIVINGTON, LONDON.
MDCCCXLII.

This page has been accessed by <!IMG SRC="/cgi-bin/Count.cgi?df=quicklat-t_00.htm&st=94&ft=0" ALIGN=TOP ALT="******">
people since 24th September 2003.