Earliest archaeology and literary sources
---
The attested locations of the cult in the earliest phase (c. 80-120 AD) are as follows:1
Mithraea datable from pottery:
Nida/Heddernheim III (Germania Sup.)
Mogontiacum (Germania Sup.)
Pons Aeni (Noricum)
Caesarea (Judaea)
Datable dedications:
Nida/Heddernheim I (Germania Sup.) (CIMRM 1091/2, 1098)
Carnuntum III (Pannonia Sup.) (CIMRM 1718)
Novae (Moesia Inf.) (CIMRM 2268-2269)2
Oescus(Moesia Inf.)(CIMRM 2250)
Datable literary reference:
Rome (Statius, Thebaid, 1.719-20)
1. Earliest archaeology
---
CIMRM 593. Earliest known tauroctony. Rome, ca.98-99 A.D.
No monument which is certainly Mithraic can be securely dated earlier than the end of the 1st century AD.3
The earliest Mithraic monument is thought to be CIMRM 593. This is a depiction of Mithras killing the bull, found in Rome. There is no date, but the inscription tells us that it was dedicated by a certain Alcimus, steward of T. Claudius Livianus. Vermaseren and Gordon believe that this Livianus is a certain Livianus who was commander of the Praetorian guard in 101 AD, which would give an earliest date of 98-99 AD.4
CIMRM 362, an altar or block from near SS. Pietro e Marcellino on the Esquiline in Rome was inscribed with a bilingual inscription by an Imperial freedman named T. Flavius Hyginus, probably between 80-100 AD. It is dedicated to Sol Invictus Mithras.5
CIMRM 2268-2269 is either an altar, or the broken base of a statue, and comes from Novae/Steklen in Moesia Inferior. It has an inscription which refers to an individual who held office ca. 100 AD.6
Other early archaeology includes the Greek inscription from Venosia by Sagaris actor probably from 100-150 AD; the Sidon cippus dedicated by Theodotus priest of Mithras to Asclepius, 140-141 AD; and the earliest military inscription, by C. Sacidius Barbarus, centurion of XV Apollinaris, from the bank of the Danube at Carnuntum, probably before 114 AD.7
The last is the earliest archaeological evidence outside Rome for the Roman worship of Mithras, a record of Roman soldiers who came from the military garrison at Carnuntum.8 The earliest dateable Mithraeum outside Rome dates from 148 AD.9 The Mithraeum at Caesarea Maritima is the only one in Palestine and the date is inferred.10
1.1. The Kerch plaques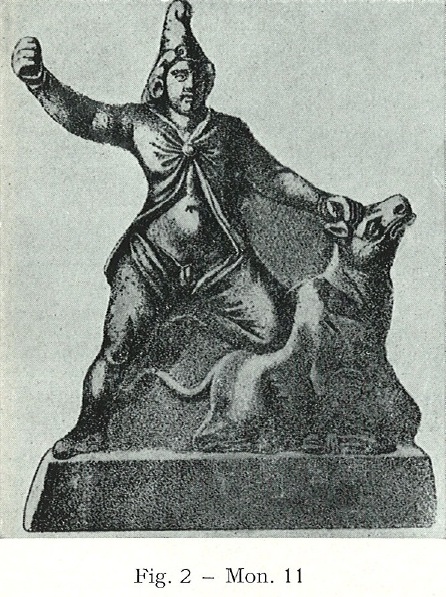 CIMRM 11. Terracotta of
Mithras-Attis, Kerch.
Five small terracotta plaques of a figure holding a knife over a bull have been excavated near Kerch in the Crimea. Two have been included in the CIMRM as CIMRM 11 and CIMRM 12. The bull-slaying figure wears a Phrygian cap, but is otherwise unlike standard depictions of the tauroctony.11
There are differences of opinion over the date. Beskow, who believes that the cult of Mithras originated here and diffused from here, dates them to the second half of the 1st century BC,12, Clauss in Gordon's translation dates them to 50 BC,13 and Beck dates them to between 50 BC-50 AD.14
2. Earliest literary references
---
The earliest surviving ancient literary text that can be associated with the Mysteries of Mithras is in Statius c. 80 AD, who makes an enigmatic reference, possibly to the tauroctony.15 Dio Cassius, describing the visit of Tiridates to the emperor Nero in 63 AD, refers to his worshipping Mithras; but the context suggests that the Persian Mitra is intended.16
---
---
comments powered by